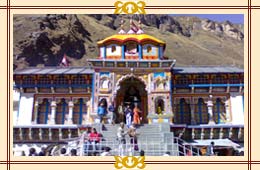 Badrinath Temple is one of the holiest Hindu shrines in India. It is situated in the hill town of Badrinath in the Chamoli district of Uttarakhand state. Along the river Alaknanda, the temple is essentially a Lord Vishnu shrine. Also known by the names Badri Vishal and Badrinarayan, it is one of the Char Dham sites and the one amongst 108 Divya Desams. This has contributed to the fact that Badrinath is vital with reference to travel and tourism.
The gates of the temple are open only for a period of six months, due to extreme weather conditions in Himalayas. There are a number of hot water pools here namely Tapt Kund, Narad Kund etc. These pools are filled with hot steaming water in the winter months also and are considered to posses medicinal properties. Many people even perform the last rites of the departed souls at Brahm Kapal.
It is a flat platform on the banks of river Alaknanda. Sheshnetra and Chandrapaduka are other rock boulders present along the river, which are believed to have footprints of Shesh Nag and Lord Vishnu. Another important temple here is the Mata Murti Temple. These temples are also considered as evidences of the rich historical past of Badrinath. Referring the mythological facts, it is believed that Lord Vishnu was practicing penance at this place.
In order to save him from the harmful rays of the sun, his divine consort Lakshmi took the form of a Badri plant and provided shade to him. Pleased by her fervor and devotion, the Lord told her that this place would be famous by her name. Hence, it came to be known as Badrinath. Splashed by Alaknanda, the divine site serves as an ideal location to experience the eternal bliss associated with spirituality.