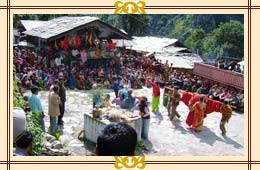 Perched amidst sprawling Garhwal Hills, Yamunotri is another revered pilgrim spots in the state of Uttarakhand. It is one of the Char Dham in India and holds great religious importance. Yamunotri is the source of sacred river Yamuna and also the abode of goddess Yamuna. It is famous for its thermal springs, glaciers and scenic locales. In effect, it is one of the must visit places from travel and tourism point of view.
According to Hindu mythology, this hilly spot was once the abode of an ancient sage by the name, Asit Muni. Owing to its legendary significance, thousands of devotees visit this silent yet hustling-bustling pilgrimage place. There are a many worth visiting places here, one of the most important being the Yamunotri temple. This temple was built by Maharani Gularia of Jaipur in the 19th century. The shrine is dedicated to goddess Yamuna.
She resides here in the form of a silver idol adorned with garlands. It is believed that a holy dip in the sacred water of river Yamunotri here relieves everyone from a painful death. This is because she is the sister of Yama, the God of Death. As a result, pilgrims visit the place in order to seek the blessings of Yamuna and save themselves from the agony of death. Apart from this there is Surya Kund which is known for its thermal springs.
The temperature of the water here is approximately 190 degree Fahrenheit. Also, there are a number of hot water pools here, which are used to cook rice and potato as Prasad (holy offerings to God). Divya Shilla is a rock pillar here, which is worshipped by the devotees before entering the Yamunotri temple. Other tourist places near Yamunatri are Janaki Chatti, Hanuman Chatti and Saptrishi Kund.