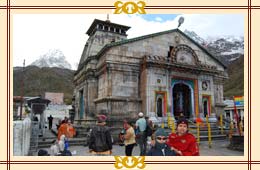 Kedarnath is a sacred town situated in the state of Uttarakhand of India. It can even be called as one of the remotest Char Dham sites as it is located amidst the snow-capped mountains of Himalayas, near the river Mandakini. Nestled in the Rudraprayag district, the main attractions here is the Kedarnath Temple, which is a popular Hindu shrine and pilgrimage, attracting devotees from all over the world. The travel and tourism scope here is strengthened by factors like natural beauty and religious zest.
The Kedarnath Temple is dedicated to Lord Shiva and is deemed to have been built by Adi Sankaracharya. The glory of the temple can be attributed to the fact that it is one of the twelve jyotirlingas (Lord Shiva shrines), present in the country. The temple remains open only for a period of six months, due to heavy snowfall in the winter months. Testing the fervor and dedication of the pilgrims, the temple is not directly reachable by road.
The only way being, a 14 km trek path from Gaurikund. The present temple stands adjacent to the initial temple built by the Pandavas. According to historical data, Pandavas after winning the battle of Mahabharata, felt guilty of killing their own brothers. They came here in search of Lord Shiva, who kept hiding himself. Finally Bhima, the strongest Pandava brother recognized him. Lord Shiva, who was disguised as a bull, escaped leaving behind his hind part.
This led to the construction of the temple here. The present Kedarnath Temple has been built by huge slabs of gray stones, standing undeterred with all its glory and majesty. The divine peace and tranquility of the place leaves the devotees completely mesmerized. The haunting environment and secluded surroundings compel all the visitors to feel the inner connection with the Almighty. Thus, Kedarnath is considered a must visit place amongst pilgrims, before leaving this world.