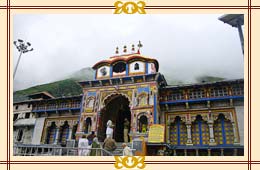 India is the land of religion, spirituality, mysticism and beauty. Especially religion has been deeply rooted into Indian culture and lifestyle. The Vedas, the Upanishads and all the other Holy Scriptures always inspire us to feel close to God. Infact, as per the Rig-Veda, the Himalayas comprise of the abode of the Gods and even today, people visit the gigantic mountains in search of the Almighty! It is here only that the four of the most revered pilgrim destinations of the Hindus are located.
Yes, we are talking about the Char Dhams, comprising of Yamunotri, Gangotri, Kedarnath and Badrinath. Yamunotri, the place where River Yamuna originates, is also believed to be the seat of Goddess Yamuna. Apart from the temple of the Goddess, the place also consists of hot springs. The prasad given at the temple is made of rice, cooked in the hot water of the springs. Gangotri, as the name suggests, is the source of holy Ganges and the seat of Goddess Ganga. The evening arti performed at the banks of the sacred river is very impressive.
The third Dham comprises of Kedarnath, the abode of Lord Shiva. It is here that one of the twelve Jyotirlingas is situated. Kedarnath is also believed to be the site of Shankaracharya's samadhi. People come from far and wide to pay their respects at the Lord Shiva temple situated here. Last, but not the least, is Badrinath - the abode of Lord Vishnu. Completing the circuit of the Char Dham, the temple situated here is visited by the maximum number of pilgrims every year. Pick one of the travel packages for the Char Dham yatra given below or an
Indian temple tour
at
India tour
.